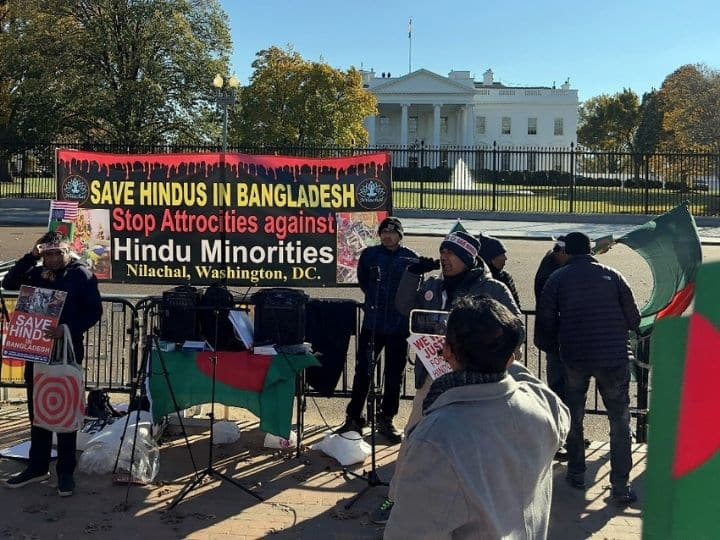 A file photo of activists taking part in a demonstration front of the White House, in Washington DC, on November 19, 2021, against alleged religious violence against the Hindu minority in Bangladesh | Photo: AFP
Source: abplive
The oppression, victimisation and instilling of fear among the minority Hindus in Bangladesh continue unabated, with the government, rights organisations and international bodies turning a Nelson's eye to them.
Communal violence against minority Hindus appears to be part of a consistent project of ethnic cleansing which the world has chosen to willfully ignore. Even the international media has failed to highlight how the Hindu population in Bangladesh has been diminishing due to "forced conversion", with social sanction and effective support of the state. 
This has resulted in brutalisation, gross inhuman treatment and human rights violations over the years of the minority Hindus in Bangladesh. The issues at least now must be addressed to bring relief to the lives of Bangladeshi Hindus living as almost non-citizens in constant fear, insecurity only to wait for the next round of torment.
Here's
the latest
. A frenzied mob allegedy gathered at the house of a minority Hindu family in a village near Bangladesh's Cox's Bazaar city in January, opposing the construction of a temple by his family. Suresh Chandra Sushil died of a heart attack the very next day. Within a week, five of his sons were crushed to death by a pick-up van while they were returning from a crematorium after performing a ritual for Sushil. One son and one daughter are still fighting for life, according to reports. The family has said it was a "pre-meditated murder" just because the family planned to build a temple in their village, Hasinapara.
In another setback to Hindus prior to this, the Bangladesh Supreme Court upheld a stay on a high court order to launch a judicial probe into the attacks on Hindus during the Durga Puja in October last year.
It is almost impossible to find a parallel in the world history of such religion-based discrimination. A deeper study only makes it starker.
"After India's 1947 partition, Hindus were still almost a third of East Pakistan's population; when East Pakistan became Bangladesh in 1971, they were less than a fifth; 30 years later only nine percent; and today fewer than eight percent. Bangladesh's Hindus face a constant onslaught of government tolerated murder, rape, abduction, forced conversion, land grabs, and more, including a 2009 pogrom that took place right behind a Dhaka police station," writes Richard L Benkin in his book, A Quiet Case of Ethnic Cleansing: The Murder of Bangladesh's Hindus.
"The people who carry out the attacks on Hindus—the shock troops of ethnic cleansing—come from across the Bangladeshi populace," he noted.  "Apologists might tell you it's done with the hope of some small financial gain and not out of hatred but that does not absolve them of any guilt. Would you murder your neighbours to get their homes? Of course not but these Bangladeshis have no problem doing it if their neighbour is a Hindu," Blenkin adds.
There have been more than 3,600 attacks on Hindus in Bangladesh since 2013, according to reports. And the Bangladesh Hindu Buddhist Christian Unity Council (BHBCUC) has said the actual number of attacks would be much higher. 
Many deaths and rapes also go unreported. 
According to the Bangladesh International Arbitration Centre, "Muslims have committed crimes against more than 3,000 Hindus in Bangladesh in the last nine years and not a single criminal has been brought to book." 
The response of the international community towards ethnic cleansing in Bangladesh has been rather disappointing. And so has been that of the so-called champions of human rights. 
Amnesty International called these "reported" attacks on Hindus, instead of a pogrom despite the scale and size. The Amnesty statement was too little and too late as against its own video showing victimhood of a community in Sri Lanka despite there being no sudden spark unlike that in Bangladesh. 
Not surprisingly, Amnesty failed to even make a mention of atrocities against Hindus in its 2020 report on Bangladesh. The Human Rights Watch is no different.
The Left Liberal intelligentsia and the Communist rule in West Bengal had always tried to suppress any talk of Hindu victimisation and erase horrific acts of violence and rape of Hindu women in Bangladesh. The attitude is a product of a colonial mindset that appeared determined to create an inferiority complex amongst Hindus. 
The erasing of such memories, and selective outrage, appear part of a concerted subcontinental project to brush talks of Islamisation under the carpet and create a narrative of Muslim victimisation, instead.
 There seems to be a silent agreement even in the media not to raise such matters. Nobody talks about the Marichjhapi massacre of Dalits in 1979 but the Delhi riots, which was pre-orchestrated according to many accounts, led Amnesty International to publish a report as an attempt to influence trial in the court of law. The grandstanding is a provocative attempt towards reducing people's faith in the judicial process of the country. 
Intriguingly, but not surprisingly, Twitter suspended the handles of ISKCON Bangladesh and the Hindu Unity Council after they spoke against the Durga Puja violence last year.
Home to "Biswa Ijtema", the world's largest Muslim congregation after Haj, Bangladesh has allowed proliferation of hardline form of the state religion that takes pride in its ruthless vengeance against the minorities including Buddhists and others.
A "secular" nation at the time of formation, Islam was made the state religion of Bangladesh in 1988 while "absolute trust and faith in Almighty Allah" was inserted in the constitution in 1977 itself. It had been challenged in the court of law but the petition was dismissed after 28 years without even giving the applicants a chance to present their views on their locus standi. 
According to a study by the Centre for Democracy, Pluralism and Human rights, "the governments' policy support in banking and finance sector is apparently tilted towards Islamist banking". The government has made concessions to make the economy of fundamentalists more lucrative than the mainstream, it said. "Fundamentalists have made investments in multiple sectors ranging from retail, industry, education, media, insurance, etc. Foreign funding to fundamentalism from Middle East and even Britain for fundamentalist activities like mushrooming of madrasas, mosques etc. will further harden anti-minority feelings. The concoction of money power, political Islamist strength and indoctrination of youth through madrasa education are tragic signs of a dark future for religious and ethnic minorities of Bangladesh," the CDPHR report said.
The spate of violence burning down temples, Durga Puja pandals and killing Hindu devotees is symptomatic of a deep-rooted anti-Hindu feelings since pre-Partition days, notwithstanding massive Indian support towards the liberation of Bangladesh from Pakistan.
The creation of "otherness" about Hindus and, therefore, finding a justification for their victimisation has led to flagrant violation of their human rights.
The violence against religious and ethnic minority women remains a popular tool by Islamists in Bangladesh. As per a report, in January to August 2020 alone, as the world reeled under the impact of the coronavirus pandemic, 889 cases of rapes and 191 cases of attempted rapes have been reported. Out of these, 41 girls/women were murdered after rape whereas nine 13 committed suicide.
An environment of animosity has been created to make the minorities feel like second-class citizens, including calling Bengali Hindus 'Malaun', a slur that means accursed people. Moreover, religious sanctions to kill kafirs have led to increased violence against the minorities, Minority Rights said in a 2018 report, but to no avail.
The political discourse in Bangladesh is heavily skewed on anti-India sentiments. The fanning of the communal fire in India by the Left Liberal brigade and "secularists", and exaggerating cases of discrimination against Indian Muslims also fuel violence against Hindus there.
India-Bangladesh relations have been at their best of late but the recent developments have the potential to turn it sour. It is, however, a great relief to see that the diplomatic leadership of both countries have acted with great restraint and maturity.
(Rahul Kashyap is a former journalist. He is a noted public affairs and international relations expert.)
What's your reaction?
1
Smile
0
Angry
0
LOL
1
Sad